Rent a campervan in Germany
You can rent a campervan at many locations in Germany. There are many cities with providers where you can easily book your campervan. Not only the big cities like Munich, Frankfurt, Düsseldorf or Hamburg are popular, but also smaller towns like Düren, Rheine or Karlsruhe in beautiful Baden. On websites like campstar you can compare different providers and book the best campervan for your needs. All these sites offer an excellent service for camping in Croatia. A campervan is not cheap, but you should be aware that a rental car and a holiday flat in a destination is usually just as expensive and you are much more flexible with the camper, because the house and also the car are always with you. You have a toilet included, fresh food in the on-board fridge and your bed whenever you get tired. Because of this flexibility, many choose this type of holiday.
What

 

factors

 

should

 

be

 

taken

 

into

 

account

?
It depends on how many people want to travel in the vehicle, then it is easy to choose the right camper. Where do you want to go and what distances are planned? All of this already plays a big role when booking. Because only when all the details are right you can choose the right camper van for your camping trip. The offers of the providers can vary and include, for example, a flat rate per kilometre, which only makes sense for shorter campervan trips in the area. If you want to travel further and book at one of the stations, you should be aware that you will also spend a lot of time in the vehicle. It should therefore be a large and spacious vehicle, especially if more people want to make the journey. The road to Croatia is not short, so it is advisable to plan an overnight stop at a campsite along the way. How about a nice spot in an Alpine valley in Austria or perhaps a stop in Slovenia at the large Postojna caves. These are also worth a visit before the beautiful journey into the mysterious country continues.
Why go to Croatia?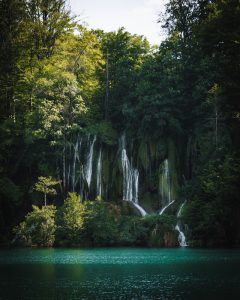 Croatia is a beautiful and unspoilt country with mountains, sea and big cities. All of this is crammed into a small space and makes the holiday feel special. No matter which resort and campsite you choose for camping in Croatia, you won't regret it, because nature here is still pristine and the people are hospitable. In the north, you can drive along the coast in your campervan and visit the towns of Umag, Pula, Porec and Rovinj. Umag with its beautiful church and old market square is a shopping paradise for young and old. Pula, on the other hand, is visited by many art and culture lovers. Here, in addition to numerous museums, there is a huge Roman amphitheatre. Rovinj is the typical small harbour, located on a peninsula. The bell tower at the end of the town offers a wonderful panoramic view of the coast. Not only Istria is worth a visit for camping in Croatia, but also Zadar, Šibenik, Split, Dubrovnik, or the islands of Krk, Rab, Pag and all the other destinations that make up Croatia. The beaches are covered with gravel and you can usually jump into the sea from platforms. The campsites are usually close to the beach, so you can leave your camper van in the plot. The Adriatic is a shallow body of water. Water sports and fun are available at all major beaches.
W
here
to
stay
overnight
?
Overnight stays for camping in Croatia are, of course, at advertised campsites. You can park your campervan under the stars and take in the numerous campsites along Croatia's coast, from Instria, through Kvarner to Dalmatia. But there are also many beautiful hidden places in the back country. If you want to know more about the campsites and find a suitable one for you, just have a look at www.camping.hr. The website is available in many different languages, and you can also select German at the top right. The campsites are sorted by region and island.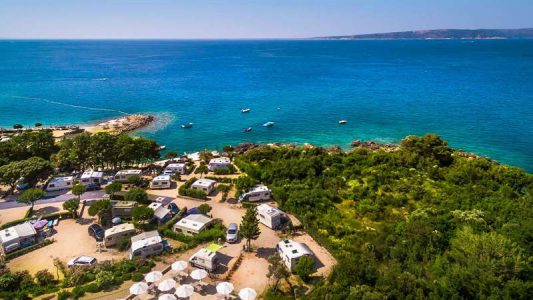 So you need to know in advance which region of Croatia your trip will take you to and what you want from the campsite. Do you want a swimming pool? Maybe there are campsites with children's programmes or excursions that you can book on site. Campsites are marked with different facilities and star ratings and give the holidaymaker a precise overview of the services when booking. It doesn't matter whether you are looking for a campsite in the city of Zagreb, along the Adriatic coast or on one of the islands, which are beautiful and have a lot of nature to offer. We especially recommend the section with Croatia's best campsites. If you prefer a small campsite with less than 200 people, you should choose OK Mini Camps.

Conclusion
It's easy to rent a campervan in Germany and head south. Because locally in Germany you have better prices and good conditions for your camping in Croatia. Only then can you look forward to your holiday and choose the right region. Croatia has a lot to offer, not only the islands off the coast with their beautiful pebble beaches, but also the coastal towns with their numerous campsites and beautiful beach promenades, as well as the inland with its national parks and city centres. The route from Germany to Croatia is also particularly attractive, with an average length of more than 1000 kilometres. You can plan an overnight stop in Austria or Slovenia and enjoy the holiday feeling.
Did you like our post? Please rate us: