If you're planning a trip to Bodensee, you're in for a treat! This beautiful lake is situated in the heart of Europe, surrounded by three countries – Germany, Austria, and Switzerland. Bodensee is renowned for its crystal-clear waters, scenic landscapes, and cultural attractions. The lake is home to many charming towns and villages, each with its unique character and history. Whether you're interested in exploring ancient castles, hiking through nature reserves, or simply relaxing on the beach, Bodensee has something for everyone. From the historic town of Konstanz to the picturesque village of Meersburg, there are countless must-see sights in this region.
Enjoy the culture, sports and nature
Day trips by train are a great way to explore the four-country region of the Bodensee with the neighbouring Allgäu and Upper Swabia. Thanks to the "Echt Bodensee Card" guest card, you can use it free of charge throughout the entire Bodensee-Oberschwaben transport network on the German side of the lake. In combination with the Bodensee Card PLUS adventure card, which is subject to a fee, you can also enjoy free boat trips. Both cards include discounts or even free admission to over 160 sights and excursion destinations. Active holidaymakers also like to use a bicycle instead of the train.
Numerous exhibitions, museums and excursion destinations in neighbouring Allgäu, Upper Swabia, Austria, Switzerland and the Principality of Liechtenstein provide additional entertainment and variety. Technology enthusiasts like to visit the Zeppelin Museum in Friedrichshafen, the Dornier Museum or the Erwin Hymer Museum in Bad Waldsee. Old tractors and cars can be admired in Wolfegg, Uhldingen and Dornbirn. The Unteruhldingen pile dwellings, the farmhouse museums in Wolfegg and Immenstadt, the St. Gallen Textile Museum, the German Hat Museum in Lindenberg, the Carolingian monastery town of Campus Galli near Meßkirch, the Humpis-Quartier Ravensburg Museum and numerous local history and town museums attract those interested in history and local history.
A sweet world of experience is Maestrani's Chocolarium in Flawil. Here you can step right into the heart of a Swiss chocolate factory. For animal lovers, the Affenberg Salem is of course a highlight, and you can also experience the diversity of the animal world in the zoos in Allensbach and Gossau or in the reptile houses in Scheidegg or Uhldingen. Tulips in spring, roses in summer and dahlias in autumn – in addition to these seasonal flower highlights, the island of Mainau in Bodensee has a wide variety of attractions and nature experiences in store.
Small adventures with breathtaking moments can be experienced in the varied nature. On hot days, it is worth visiting one of the impressive gorges or ravines in the region. Among the best known are the Rappenloch Gorge in Dornbirn, the Eistobel near Maierhöfen, the Breitach Gorge in Oberstdorf or the Starzlach Gorge near Sonthofen. If you want to marvel at unique panoramic views of the Alps and Bodensee without hiking for several hours, visit the Allgäu Skywalk in Scheidegg or take the comfortable cable car to the Pfänder above Bregenz, with an Alpine Game Park and one of the best views of Bodensee and the Appenzell Alps in Switzerland.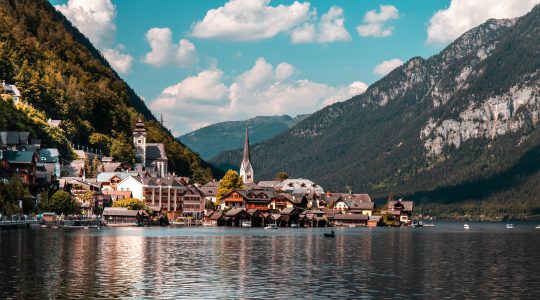 5 must-see sights at the Bodensee
The Bodensee has so many beautiful spots, idyllical villages and stunning nature, there are almost too many things to put on you list. So, here are some of our must-see sights at the Bodensee.
Mainau Island: This picturesque island is home to a stunning botanical garden and a butterfly house. It's the perfect place to relax and take in the natural beauty of the lake.
Zeppelin Museum: If you're interested in history and technology, you won't want to miss the Zeppelin Museum. It's home to a collection of airships, engines, and other aviation-related exhibits.
Meersburg Castle: This medieval castle is perched on a hill overlooking the lake and offers stunning views. You can explore the castle's interior and learn about its history.
Pfahlbauten Museum: This unique museum showcases the prehistoric pile dwellings that once dotted the lake's shores. You can learn about the daily lives of the people who lived in these dwellings thousands of years ago.
Konstanz Old Town: This charming old town is full of narrow streets, historic buildings, and quaint shops. It's the perfect place to wander and soak up the atmosphere. These are just a few of the many sights to see in Bodensee. Whether you're interested in history, nature, or simply relaxing by the lake, you're sure to find something that appeals to you.
Where to stay during your trip to the Bodensee
 If you're planning to see all these amazing highlights in the Bodensee region, a good accommodation is also a necessity. There are plenty of options available, from hotels and guesthouses to apartments and campsites. If you're looking for a luxurious experience, consider staying at one of the many high-end hotels in the area. These properties offer top-notch amenities, including spas, restaurants, and stunning lake views. For those on a budget, there are plenty of affordable guesthouses and hostels that offer comfortable accommodations without breaking the bank. If you prefer a homier feel, consider renting an apartment or holiday home. These options provide more space and privacy than traditional hotel rooms and often come equipped with kitchens and other amenities that make it easy to feel at home while on vacation. Finally, if you're an outdoor enthusiast, camping is a great option in Bodensee.
There are several campsites located around the lake that offer beautiful views and easy access to hiking trails and water activities. If you are looking for a cozy and spacious campground, Campground Gitzenweiler Hof, located north of Lindau, can be recommended. This family-friendly campground, with connections to public transport, is the ideal starting point for an eventful and unique time around the Bodensee. No matter what type of accommodation you choose, be sure to book early as Bodensee is a popular destination year-round!
All in all, with these recommendations you will definitely have a trip to remember at the Bodensee!
Did you like our post? Please rate us: