3 Meals perfect for this autumn season!
Autumn is one of the most beautiful times of the year: burnt-orange leaves, gorgeous sunsets and hearty food. There's nothing better than sitting around the campfire listening to your favourite tunes and snuggling up to some warm autumnal food. An experience that you'll always remember. 
Take a
look
at
our
delicious
autumn
meals
that
will
make
your
camping
experience
that
much
better
.
      1.
Pumpkin
Soup
🎃
 An easy and highly nutritious autumn meal that the whole family can get involved in. We also have a Vegan version for you.
Cooking time: 25mins.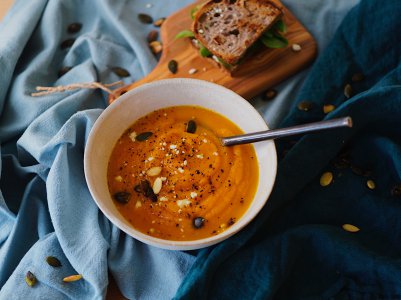 Ingredients: 
1kg pumpkin

2 chopped onions
1 garlic clove
Salt and black pepper to taste
600ml chicken or vegetable stock
1 tbsp butter / 2 tbsp olive oil
100ml double cream
Directions:
Heat 1tbsp butter / 2 tbsp olive oil, then add the onions and garlic and gently cook for 5 mins, until brown.
Cut 1kg pumpkin into chunks and fry for 7-10 mins until soft and golden.
Pour 600ml chicken or vegetable stock into the pan and season to taste. Bring the pan to boil and then cook gently until the pumpkin chunks are very soft.
Pour 100ml double cream, bring back to the boil and purée with a hand blender.
To make it even more special, use a sieve to make it velvety smooth.
Et voilá, just as simple as that! 
      2.
Mushroom
Brunch 🍄
A perfect, super quick lunchtime meal that'll make you want more! Low calories and Gluten-Free.
Cooking time: 10mins.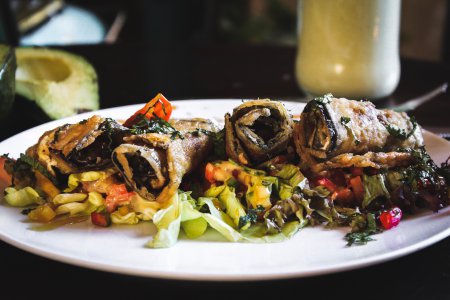 Ingredients: 
1 pack of mushrooms (button mushrooms are our favourite)
2 garlic cloves
Salt and black pepper to taste
160g bag of kale
4 eggs
1 tbsp olive oil
Directions:
Thinly slice the mushrooms and crush the 2 garlic cloves.
Add a tbsp of olive oil to a frying pan and fry garlic on a low heat for a minute or so.
Add the thinly sliced mushrooms and cook until soft.
Add the bag of kale and cook until all leaves are wilted
Season to taste
Crack 4 eggs and fry for 2-3 minutes
Cover the frying pan for a further 2-3 minutes to let everything marinate.  Enjoy!
3. Autumn

Vegetable

Soup

with

Fancy Cheese on Toast 🥣🧀
You need to keep warm for the long nights. Drinking a cup of vegetable soup will help fight the cold. These vegetables are readily available during autumn, so your soup will be extra fresh. 
Cooking time: 30mins. 

Ingredients:
2 chopped carrots
1 chopped leek
1 garlic clove
1 chopped potato
1 tsp sugar
1 can chopped tomatoes
1 tbsp tomato purée
1 can chickpeas, drained
450ml vegetable stock
Mixed herbs
For your Fancy Cheese on Toast
Loaf of bread (your choice which type)
1 garlic clove, cut in half
50g finely grated edam cheese
Directions
:
Put the chopped vegetables into a large saucepan, along with: sugar, garlic, vegetable stock, chopped tomatoes, tomato purée and mixed herbs. Cook on a medium heat for 15 minutes until vegetables are soft.
Then pour the drained chickpeas in and cook for a further 10 minutes, stir regularly.
For your fancy cheese on toast:
Rub both sides of bread with the garlic clove. Grill on one side until golden, turn slice of bread over and repeat.
Cover with edam cheese and grill until it's bubbling.
And that's it! Serve with your Autumn Vegetable Soup.
Bon Appetit!
Vegetable based meals are perfect for autumn, because most vegetables like mushrooms, carrots and tomatoes are in season! Seasonal food can always be found when camping and is also a great way to help local communities.
If you'd like to check out some more of our favourite recipes, make sure to take a look at our blog at campstar trends. Also, don't forget to follow us on social media for everthing camping: Twitter, Facebook, Instagram and Pinterest.