Camping: Pure holiday happiness in the middle of nature! Finally plenty of time to spend with your beloved ones. So you'd better have planned lots of activities! That's why we've created a list of the top 10 best camping games! This way you don't run the risk of hearing: I am bored!
Obviously there are the classical activities, like telling stories around the bonfire or jumping obstacles. But that's a bit old school, right? But enough talking! Here are our top 10 suggestions:
1. Camping Charade
Tears of laughter are guaranteed! Everyone knows the cult party game Charade: the guessing game, in which you need to present a word through gestures and not words. Suitable from the age of five until 99. The ones over 100 might also enjoy it, you never know!
Charade is one of the camping games that provides a lot of laughter and which might get loud. Making it therefore the perfect camping game for the whole family. A definitely funny and challenging variation is trying to guess movie titles such as "Despicable Me" or "Lion King". Enjoyable therefore by both younger and older children.
Tip! Don't forget to create rules for "the" and for prepositions (such as in, out, from etc). The thumb, for example, can mean "the". This way the game can become a little bit easier, but remain nevertheless exciting.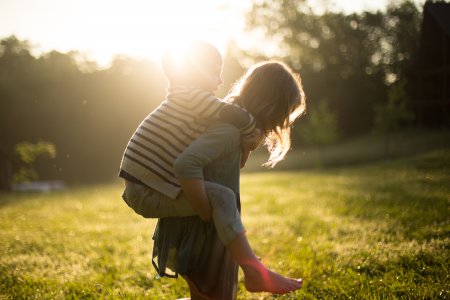 2. Camping-Country-River
… or city-country-camping? You guessed it right: the legendary City-Country-River game adapts to your camping holiday! With a little imagination the categories can be creatively adapted. Here are few ideas in advance: "Camping Equipment″ like tent, chair or also "Beach equipment″ like sunbed or suncream.
3. Throwing rings in a different way
Just throwing rings? Today's kids are a bit more demanding. While simple ring throwing may be enough for toddlers, parents don't always have an easy time with their older children.
No need to worry though! We have the perfect idea of how you can spice up the classic camping game "throwing rings"! All you are going to need are sticks glowing in the dark, also known as neo-lights, which can be found in every discounter. But make sure that they can be formed into rings. As soon as it starts getting darker the fun can begin. Put up water bottles and organise a small competition: who will get the most bottles with their glowing rings?
Tip: A gift for the winner will certainly increase the excitement and motivation!
4. Simon says
"Simon says″ is a mixture of movement, concentration and language. A clear advantage of this camping game is that no preparation or material is needed.
The rules are quickly to explain. One player is Simon. He comes up with activities, which he either states as "Simon says: Jump on one leg″ or without the sentence "Simon says″. If the command does not include "Simon says" it must not be carried out. Should one of the players nevertheless do the activity he*she is going to lose points. You decide when the game ends. And to make sure that everyone is happy you can simply choose every time a different player to be Simon or Simone.
5. I spy – Camping Edition
As children we loved this guessing game and could play it endlessly. Do your children feel the same way? How about a camping version?
One of the players is the spy. After he found an object which is visible by everyone he*she says "I spy with my little eye …" and then tries to explain it in one sentence. He then continues giving clues to the other players, until they found the object. This relaxing game is perfect for playing during breakfast or after a hiking day.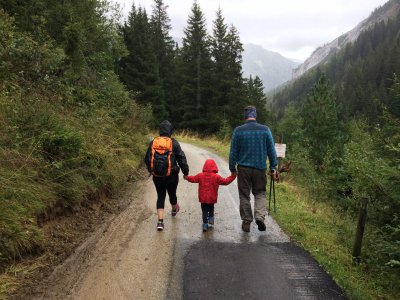 6. Forbidden words
This simple camping game is great for small families or when few people are motivated to play. Two players as moderator and interviewee compete against each other. The moderator asks the interviewee many questions. The interviewee must not answer with yes, no, black or white. If the interviewee accidentally says one of these forbidden words, the round is over and the players swap roles. Of course, it is also possible to change the forbidden words.
7. Camping Bingo
The difference to the Bingo version are the terms. Instead of using typical numbers, you drawn terms connected to camping. This requires some preparation before the trip, since bingo cards and pieces of paper must be designed at home or downloaded from the Internet.
8. Murder in Palermo
Instead of just hanging around after dinner, you can suggest the exciting game of "Murder in Palermo". If that's too scary for you, you can also rename it "Thief in Palermo". What could also be funny is to use the place where you camp instead of Palermo. This game is ideal for large travel groups and large families, since you need at least 8 people to play. Imagine playing this game at the bonfire! How spooky!
The rules: the game leader distributes cards where C (citizen), (2x or 1 times) M or T (murderer or thief) and D or P (detective or policeman) are written on. Who got which card must be secret!
Now the game leader says:
"It is night on our campsite. Close your eyes".
"The murderers wake up." The murderers open their eyes and see who their partner in crime is. Now they choose their victim. But careful! The other players should not notice anything!
"The murderers fall asleep again and the detective wakes up." The detective is now trying to spot one of the murderers. The game leader can discreetly confirm or deny the guess.
"It's day on our campsite again. Everyone wakes up. And oh … (name of the person chosen by the murderers) has been murdered!"
Now the whole group tries to figure out who the murders are. Murderers are to play innocent and put the suspect on others. The detective is not to expose this identity or say directly the name of names of the murderers, but must rather convince the others of this theory.
At the end of the round one player is identified through voting as the murderer. The person with the most votes leaves the game but does not reveal his card.
Now the game leader starts again from the beginning and another person gets killed. Or not. Depending on how successful the voting was.
The game ends as soon as all murderers are eliminated or as soon as the murderers have murdered all citizens and detectives. When all the murderers have been eliminated, the game leader announces: "It's daytime and nobody has been murdered!" The game can have different variations and get adapted to the group: which deed was committed, which story the game leader constructs, etc.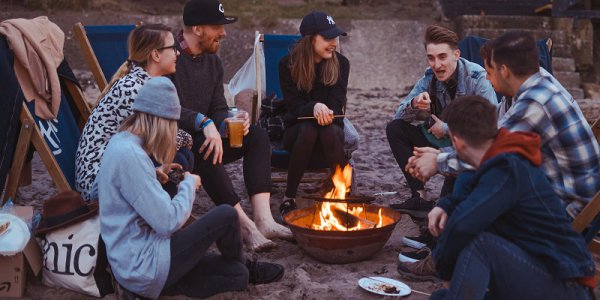 9. Scavenger hunt
Anything can be the target of the scavenger hunt. For example collecting objects in nature (leaves, sticks up or objects more difficult to find like insects or flowers). Teams can either consist out of one child and one elder or every one can play on its own. This game can be played on the campsite, during a hike or a walk. Planning is required.
Ideally you can make cards that depict the items to be found. This way you can tick the ones you found. These should be printed out and taken with you on the holiday. A modern variation would be to take pictures with your smartphone of the objects. These can then be exchanged with the other players. Plus, you just found a lovely souvenir!
10. Card and boarding games
Not the most original idea for a camping game, but for sure one of the most popular. Card and boarding games can make both parents and children happy. Not only does everyone know the rules of lets say Uno or Ludo, but almost everyone loves them. Bonus tip: How about card games for adults like "Cards against Humanity" if you are among friends or after you have put the little ones to bed?
As you can see, it is super easy to organise fun camping games and make your holiday a memorable experience. Camping is appealing to young and old and can create unforgettable memories. Your camping experience is as individual as you are. But one thing is certain – no matter if you are a family with small children or a big family with teenagers and grandparents – camping games enrich the daily routine and offer a lot of entertainment!
Did you like our post? Please rate us: