If you're looking for an adventure, there's no better way to find one than through wild camping in Australia. Here's everything you need to know to get started, from the best places to camp to what gear you'll need. 
Australia is one of the most popular countries in the world for wild camping, and for good reason. With its stunning landscapes and diverse wildlife, there are endless opportunities for adventure. If you're planning on wild camping in Australia, then this guide is for you.  
We'll cover everything from where to find the best camping spots, to what to pack, to how to stay safe in the Australian wilderness. So read on and start planning your next great adventure!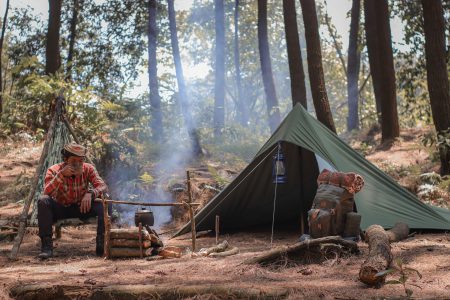 What is wild camping?
Wild camping is a term used to describe camping in natural, undeveloped areas. This can include public lands like national parks, as well as private lands that are open to the public for recreation. Wild camping is a great way to experience the beauty of Australia's wilderness areas without having to deal with the crowds and amenities of developed campgrounds. There are a few things to consider before heading out on a wild camping adventure.  
First, you'll need to make sure you have all the necessary gear. This includes a tent, sleeping bag, food and water, first-aid kit, and any other items you'll need for your trip. Second, you'll need to find a suitable location. Look for an area that is away from developed areas and has plenty of space for your group.  
Finally, make sure you follow Leave No Trace principles when wild camping. This means packing out all your trash, respecting wildlife, and being considerate of other campers. Wild camping is a great way to get back to nature and experience all that Australia has to offer. So, grab your gear and head out into the wilderness for an adventure you'll never forget! 
Why you should go wild camping in Australia:
If you love the great outdoors, then you'll love wild camping in Australia. There's something truly magical about spending a night under the stars in one of the most beautiful countries in the world. Here's why you should go wild camping in Australia:  
-You'll get to experience some of the most amazing scenery on earth. From the stunning Great Barrier Reef to the rugged Outback, there's so much to explore.
-You'll get to meet some of the friendly locals. Australians are known for their laid-back attitude and hospitable nature, so you're sure to have a great time. 
-You'll get to try some delicious food. Australian cuisine is renowned for its fresh, local products and unique flavours. You'll definitely be in for a treat! 
-You'll get to enjoy some amazing weather. Australia is blessed with sunny weather all year round, so you can camp any time of year. 
-You'll get to relax and unwind in nature. Camping is the perfect opportunity to disconnect from technology and reconnect with nature.
The best places to go wild camping in Australia:
Australia is a vast and varied country, making it the perfect destination for wild camping. Whether you're looking to explore the outback, experience the unique flora and fauna, or simply enjoy the peace and quiet of nature, there's a spot for you. Here are some of the best destinations we recommend you start with:  
-Karijini National Park, Western Australia  
-Kakadu National Park, Northern Territory  
-Grampians National Park, Victoria  
-Blue Mountains National Park, New South Wales  
-Freycinet National Park, Tasmania  
What to take with you:
If you're planning on wild camping in Australia, there are a few things you'll need to take with you to make sure you have a safe and enjoyable trip. Here's a guide to what you'll need:  
-A tent: Make sure you have a tent that's big enough for you and your gear, and that can withstand the elements.  
-A sleeping bag: You'll want a sleeping bag that's rated for the temperature you'll be camping in.  
-A camping stove: A camping stove will come in handy for cooking meals.  
-Camping food: Be sure to bring enough food for your entire trip.  
-Water: Bring plenty of water with you, as you may not have access to potable water where you're camping.  
-First aid kit: A first aid kit is always a good idea, in case of any accidents or injuries.  
-Clothes: Be sure to pack appropriate clothing for the weather conditions. With these items, you'll be prepared for anything when wild camping in Australia! 
How to camp safely and responsibly in the great outdoors:
Wild camping is one of the best ways to experience all that Australia has to offer. However, it is important to camp safely and responsibly in order to protect the environment and ensure that everyone has an enjoyable experience. As such, when wild camping in Australia, always remember to: 
-Respect the environment – This means leaving no trace behind, respecting wildlife, and not disturbing natural habitats.  
-Be prepared – Before setting out, make sure you are familiar with the area and have all the necessary supplies. This includes food, water, a first aid kit and a map.  
-Be aware of your surroundings – Be alert for dangers such as snakes, spiders, and other dangerous animals. But also be aware of weather conditions suchas extreme heat or cold. 
-Follow the Leave No Trace principles – These principles are designed to help protect the environment. They include packing out all trash, respecting wildlife and minimizing campfire impact. 
In a nutshell:
Overall, wild camping in Australia is an amazing experience that everyone should try at least once. There are so many beautiful places to explore and the feeling of being one with nature is truly unbeatable. This guide has hopefully given you all the information you need to have a safe and enjoyable trip. So, what are you waiting for? Get out there and explore!