If you want to surf in Portugal, be reassured right away. There is no need to rely on a season; the surfing areas of the Algarve and other Atlantic coasts at the western end of continental Europe know no rest periods.
As surfers, you will find perfect conditions 12 months of the year to practice your board sport. Great beaches, diverse nature, and most importantly, consistently perfect surfing conditions make Portugal a perfect destination for you.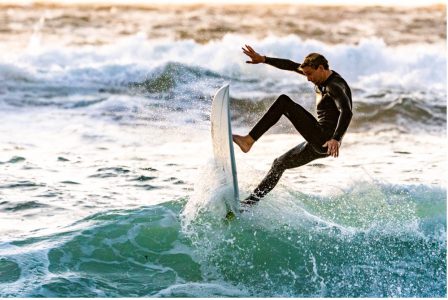 Surfing in Portugal: Some of the most beautiful surfing locations in the world await you
You will not be on your board day and night, so you will also need to focus on the beautiful scenery and interesting places in the area. Portugal is absolutely ideal for this. You need to visit places like Amado and Praia do Amado on the Costa Vicentina and Arrifa in the Algarve. The pristine and almost untouched cliffs are the perfect setting for your surfing.
Cantinho da Baia-Peniche has a reputation for having some of the best surfing waves in Portugal. Ideal for all levels, from beginner to pro!
Just below the millennial fishing village of Ericeira is another beautiful and exciting surf spot. With the steep coastline and the village above, not only the surfer's soul but also the surfer's eye is offered much.
Praia de Carcavelos, the largest beach in the Lisbon-Estoril-Cascais region, is also part of this list. On one side the beautiful Atlantic, on the other the country's sporting and cultural metropolis-these 1.5 kilometers of beach are definitely worth it.
In the Porto region there is not only excellent wine, but also some great places for surfing. One of these is located in Praia da Torreira. Located between the Aveiro lagoon and the sea, the conditions here are excellent, perhaps the best in Portugal.
For lovers of the extreme, we recommend a trip to Sagres. From here it is a short walk to Cabo de São Vicente, the most southwestern point in continental Europe. The rugged natural force of the sea, powerful winds and impressive waves are simply part of the experience for those who travel to Portugal to surf. If you do not visit Cabo de São Vicente, you have surely missed one of the most impressive spectacles of Portuguese nature.
Finally, Nazare is one of the best known and most popular beach resorts on Portugal's Silver Coast, the Costa de Prata. The fishing and pilgrimage town is known, especially in the winter months, for the near-killer waves of Praia do Norte, which attract the most daring surfers looking for a special thrill every year.
Surfing is a great sport if you have thought of everything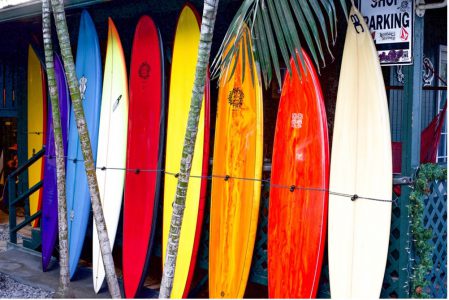 Even the most experienced and enthusiastic surfer can forget something when setting off on a surfing trip. And equipment is so important, right down to the smallest detail. It is annoying when you arrive at your destination and have to spend money unnecessarily on something just because you urgently need it but forgot it at home. A packing list may be outdated, but it still makes sense. What should never be forgotten:
Your board
Of course, your board is the heart of the hobby. This includes the leash (the line with which you are connected to the board), sail and fins. A non-slip pad makes it easier to maneuver on the board.
The additional equipment
If you want to enjoy your board for a long time, you need to think about a few things to take care of it. Kerosene and kerosene comb should be used before and after each surf outing.
Think about yourself and your health: the wetsuit
Neoprene offers a number of advantages. It is lightweight, strong, protects the body from cooling and unpleasant encounters with jellyfish, for example. You can also surf in a regular swimsuit. But it is not recommended.
Everything for transportation
To get your favorite safely into the water, you'll need to have a board bag and an attachment suitable for your car or RV.
No matter when: don't forget the sunscreen!
Strong sunscreen is essential any time of year. The water reflects the sun, and because of the wind and water, you will only notice the effect when it is already too late.
Surf: house or RV?
Surfing in Portugal: Accommodations on the coasts of Portugal
When you go surfing in Portugal, you can freely choose your lodging. There are many residential properties along the coast that offer surfers a roof for the duration of their stay. For every price range and for individuals or groups.
But there are huge advantages to renting an RV and staying in one of the countless campgrounds. The flexibility is absolutely unbeatable.
You can enjoy a different beach every day without having to constantly drive back and forth.
back and forth
You follow the wind and waves wherever they are.
You sleep in the same bed every night without always being in the same place.
You only stay anywhere for as long as you really want to.
So, if you really want to personalize your trip, you should definitely rent an RV for your "Surfing in Portugal" adventure.
Why wait? Our offers are just a click away
Don't miss this opportunity. The benefits of renting an RV are obvious. If you are heading to Portugal to surf, our vehicles are the ideal means of transportation and accommodation. Inquire about our attractive terms today.
Did you like our post? Please rate us: