The Forgotten World Highway in New Zealand: Travelling by campervan

For many people, a trip to New Zealand is a dream. The small republic on two islands so far away from us is known for evergreen mountains and valleys, beautiful waterfalls, Hobbit's Hole and much more. But New Zealand is also wonderful for travelling by campervan. Travelling and hire a campervan in New Zealand is the dream of many tourists. 


And rightly so, because one of the most famous and beautiful routes by campervan leads across the North Island of New Zealand. The so-called "Forgotten World Highway" leads from Stratford to Taumarunui and is considered the loneliest road in New Zealand. It also has the designation "Highway 43".
Why is the road so fantastically beautiful?

The "Forgotten World Highway" leads 155 km through untouched landscape over the old traces of the colonialists from 1900. If you follow this road, you will be driving your campervan away from any civilisation. The road is part of New Zealand's cultural heritage. You hardly meet any other vehicles on the road and pass very few houses. There is only one small shop along the route and not a single petrol station.
But instead you experience pure nature. Sheep graze on lush green meadows as far as the eye can see. The road goes up and down constantly. Except for 11 kilometres, it is completely asphalted. The bumpier the road becomes, the more fascinating nature becomes. For a long time, the muddy terrain could only be travelled by horse-drawn carts. Countless curves and serpentines open up a new view of the unique beauty of this area every few metres.
The following sights should not be missed when travelling to New Zealand on the Forgotten World Highway:

Strathmore Saddle
Immediately after leaving Strathford, you come to Strathmore Saddle. The view of endless shades of green is fascinating. This is where New Zealand's "back country" begins and the area is wonderful for sheep farming.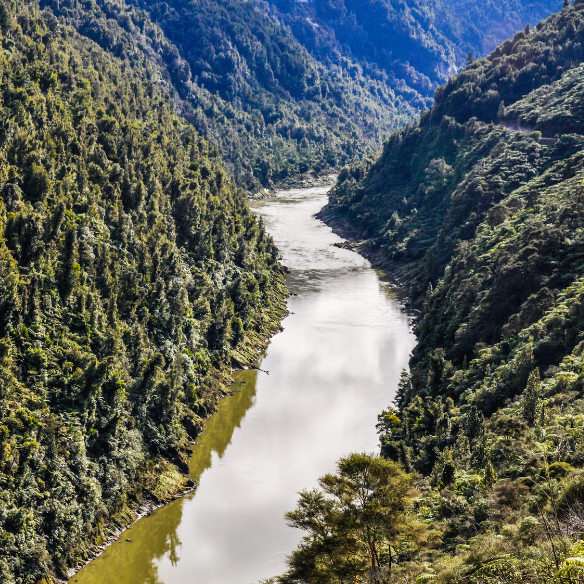 Te Maires Reserves
Here there are huge stone yew virgin forests with wonderful walking trails.


Tangarakau Gorge
This is a deep gorge and you feel like you are in Jurassic Park. The road is no longer paved here, but a good dirt track leads through this wild, overgrown rainforest.
The trees and vegetation have been able to grow undisturbed here, and it is not for nothing that you feel like you are in "Jurassic Park".This feeling is further enhanced when you realize that some scenes from the films were actually shot here. For every "Jurassic Park" fan, it is definitely worth the trip to New Zealand.


Whangamomona
Whangamomona has 25 inhabitants and is the largest settlement along the Forgotten World Highway. At the same time, this small town is also home to the only hotel along this route. Another special feature of Whangamomona is that it is the smallest republic in the world.
In 1988, the 30 inhabitants of Whangamomona decided to form their own republic because they were dissatisfied with the government in New Zealand. Without further ado, they formed a new republic. If you stop over in Whangamomona on a trip to New Zealand, you can even get a stamp of this republic on your passport.
Moki Tunnel
The Moki Tunnel was built in 1936 and is 180 metres long. It has only one lane and is not lit. Many fossils were found during its construction. The name "Hobbits Hole" is written above the tunnel portal.

Mt. Damper Falls
The way to this waterfall can be found by taking the left turn shortly after "Hobbits Hole". After another 14 km you reach the car park of the waterfall. A footpath leads across green meadows and a footbridge into the forest. After about 20 minutes on foot you reach Mt. Damper Falls.


Nevins Lookout
Nevins Lookout is a wonderful place to park the campervan and enjoy the great view of the surrounding volcanoes.

Tahora Saddle
This mountain saddle has a wonderful campsite, making it a great place to park your campervan and stay overnight. The views are magnificent and the campsite is one of the most scenic places in New Zealand.
With a cloudless sky, you can see as far as Mount Ruapehu, New Zealand's highest volcano. In the early morning, before the sun rises, it is often still misty and the area is, at this early hour, uniquely beautiful.



Raurimu Spirale
Located a few kilometres from the "National Park", it is internationally regarded as an engineering feat. It is a spiral in the railway tracks on the main railway line of the North Island. The spiral is built on a 215-metre-long steep slope. Railway fans from all over the world make the journey to New Zealand just to marvel at this spiral. However, the far greater experience is to travel this section of track by train.
There is a signposted "viewpoint", but from there you don't see much more than the green landscape with sheep. There is, however, a wire model of this railway loop, which can also be seen from the viewpoint.



As you can see, the Forgotten World Highway is a route worth renting a campervan for on a trip to New Zealand. The 150 miles of scenery are full of beautiful nature and many points worth stopping at. Nowhere else can you enjoy more peace and scenery than here.
Did you like our post? Please rate us: