France, one of the most camping-friendly countries in Europe! As well as the French themselves, it awaits campers from all over the world. And not only in the high season.
While many campers are camping in tents, especially in the summer months, there are more and more motorhome owners all year round. Finally, of course, there are also caravan drivers on the road. The country offers a suitable pitch for everyone who wants to be out in the countryside, close to towns and/or sights, lakes, rivers or one of the two seas – the rough Atlantic or the more sophisticated Mediterranean.
France is so versatile that the decision where the trip should go is difficult:
A sea with a gigantic "sandbox" or an ocean with a wildly romantic coast, crystal-clear rivers and lakes, imposing mountains – for example in the French Alps or in the Pyrenees – gentle hills or flat land. The vegetation ranges from dense forests to Mediterranean scrub, from purple lavender fields to eucalyptus trees, olive and walnut groves, to citrus trees, cacti and numerous other plants that beguile the senses. The whole thing is completed by the singing of the cicadas and passing lizards.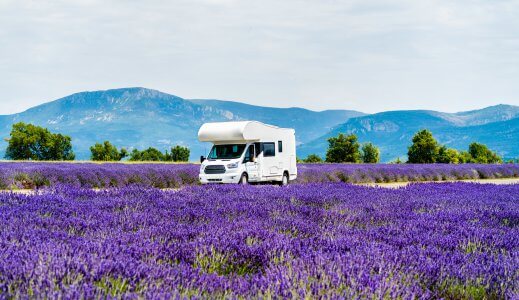 As 
varied
as
the
nature
are
the
sights
:
Impressive places which tell of long history and tradition, breathtaking gorges – for example the Verdon gorge -, scenes of past battles – for example the landing beaches of D-Day -, viticulture, castles, fortresses, canals and, and, and. France is also "stony rich", one thinks of the countless dolmens and menhirs.  
La France is the camping country par excellence… 
There is also a variety of different possibilities for camping. Almost every village has a campsite, a "Camping Municipal" or a motorhome site.   
Camping Municipal is a simple, mostly small site belonging to the municipality. Other small and large campsites are run privately or by a chain of campsites and are equipped differently. Motorhome pitches, on the other hand, are aimed at campers with such rolling homes and are usually equipped with supply and disposal stations as well as some electricity. Furthermore, some farms and wine growers offer "camping à la ferme" or "France Passion" sites. In addition to all this, there is also the theoretical possibility of wild camping.
It is therefore undisputed: France is made for camping.
A touch of freedom & prohibition
There are many individual reasons for choosing Wildcamping. One of them is to escape the " cuddle-camping ", because especially in midsummer, campers with their vehicles or tents often stand close to each other and look at their neighbours from their own windows onto their plates.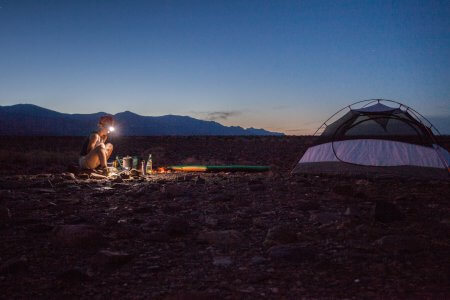 A second motive is to be as close as possible to nature – without disturbing human noises from the neighbourhood. Only your own snoring, the chirping of the cicadas or the call of the nightingale as well as the noise of the surrounding water are tolerated acoustic noises.
However, a less common -but not more durable- reason is the financial aspect: Some believe to save camping site fees, which of course does not pay off if you are in the wrong place at the wrong time and don't count on the police who possibly stop wild camping and blow up the price offer of a 5-star camping site with penalties.
Anyone who chooses wild camping opts for a certain degree of freedom and forgoes some comfort and luxury – apart from what their own motorhome offers.
One misconception is that you can do whatever you want with this form of camping. Wildcamping has its own laws and rules – even in France! And (actually) it is forbidden anyway…
Also freedom must adapt itself!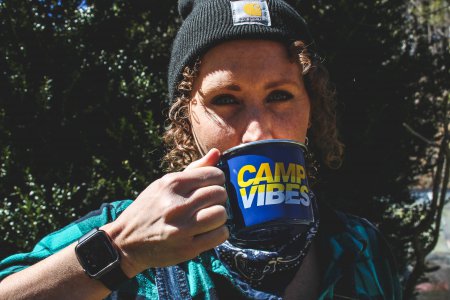 Wild camping is generally forbidden! But France wouldn't be France if there weren't loopholes or even "tolerated legal breaks" in the legal situation. Besides the term "Wildcamping" also has to be interpreted generously…
So let us put this dissuasive ban and the concept into perspective. If the following things are taken into account, a meaningful remnant of wild camping possibilities will remain:
Avoid heavily frequented beaches or tourist strongholds! There are official places for camping, and of course they do not want to ruin their business. Moreover, there is more control here, and you might get some fines. Ideally – if you meet friendly "officials" – you are only asked to "break down the tents".
Some places display signs with the inscription "Camping reglementé – s'adresser à la mairie". Thus, you can contact the town hall and get a place to stay overnight.
At the local tourist office – the office de tourisme, OTSI for short – you can find out where you can stay without being bothered.
Especially in rural areas, it is possible to politely ask one or the other owner of a farm or property for an overnight stay. Camping on private land may be allowed with the permission of the owner. The only downer is that the French love their language. You should be able to dig out a few chunks of French from your school days!
Overnight stays on the roadside or in parking lots are permitted anywhere for one night where it is not expressly forbidden.
A matter of interpretation! However, you should avoid behaviour which resembles camping – pitching a tent, taking out the awning, table and chairs, etc. – and you should not use your motorhome for this. In most cases: maximum 24 hours to 7 days – depending on the location.
If you plan to camp in a national park you should know that camping is forbidden here and that will be controls. However, if you are on foot with bag & bag and would need about an hour to get out into civilisation, there are special regulations for you. Thus, for example, one is allowed to camp overnight in some parks between 19 and 9 o'clock. It is best to inquire in advance about the regulations.
Important: Do not leave any waste, damage any plants or disturb animals! Naturally, this should be a matter of course for nature lovers – i.e. for campers!
The country is big and sometimes very lonely. Especially in these remote regions you will find a spot for wild camping – for example in the Pyrenees.
Do not stay overnight at motorway service areas! Just such are the places where many tourists were robbed sleeping in their camper vans or caravans!
Anyone who wants to stand in an inhabited street with their camper van should act according to the principle: I place myself in a way that doesn't bother the residents.
Out of season there are more possibilities for wild camping. After all, many campsites are closed and you don't spoil their business…
Being wild in no way means spreading out over days, weeks or months at the same place. Enjoy one night!
In any case, if a suitable spot has been found, you must behave appropriately:
No open fire!
Don't leave any garbage behind!
Neither empty the waste water tank nor the toilet cassette (there are enough supply and disposal points)!
No unnecessary noise!
Treat nature with respect!
No permanent vacation!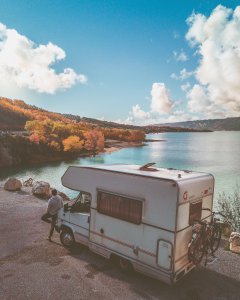 The quintessence
Despite the official ban, you can still go wild camping in France, whereby the term is a matter of interpretation. In general, this is more possible in the north of France as well as in the French Alps and Pyrenees or in the centre of the country than on the Côte d'Azur or in the south of France.
The possibilities are much more complex in less touristically developed regions.
Never spend the night at motorway service areas!
Avoid campsite-like behaviour as far as possible and respect nature. Furthermore, it should be a matter of course not to stay at one spot for days or weeks.
Outside the high season, there is a better chance of wild camping.
Last but not least, you have to be aware that wild camping is forbidden and that there may be controls, which means that you will be sent away in the best case, and in the worst case you will be fined a hefty fine. Discussions useless!
Did you like our post? Please rate us: