Camping – the right holiday for everyone!
Being flexible, close to nature and carrying minimalist equipment – all this makes camping a mini adventure for young and old. The good news for newcomers and those interested are, that there are no typical campers. Because camping is suitable for everyone. So pack up your equipment, gather your friends and family and off you go for camping in summer.
8 tips for a great summer camping experience
Whether you're a beginner or an already experienced camper, following tips will help you avoid small or big accidents and misfortunes during your camping trip.
1. Finding the right place
A lot depends on the perfect pitch or campground. Too loud tent neighbours, too little shade or a long way to get to water can be quite annoying in the long run. So don't get to enthusiastic or just set up in the first place you see. Rather take your time to look around and find what's best for your needs. Keep in mind that the sun changes positions throughout the day, that trees and bushes can give you extra shade and check out where the toilets are.
2. Lavender against mosquitoes
Although there are various insect-repellent sprays on the market, their components are raising concerns amongst people. You would in particular not want to spray your child with one of these. Surely, the best natural way to keep away mosquitoes is by using essential lavender oil. This is absolutely safe not only for children but also for babies. However, it should be used well diluted or mixed. Since really every centimeter of skin surface should be treated, it is best to mix the lavender oil in a body lotion.
3. DIY: Shadow for your dog and your kid
Did you forget your beach umbrella? Does your dog or child not want to spend all day in the tent? You can easily protect them from the sun, just by using a big cloth (beach towel or pareo), 2 big stones and 2 strong sticks. Just put the sticks into the ground with a little less distance than the length of the cloth. Tie 2 corners of the cloth to the poles, pull the two remaining corners diagonally to the ground and keep each one on the ground by using a large stone.
4. Warm tea for the heat
Even if feel a strong desire to take a cold sip while laying on the beach, underneath the hot sun, it is better to control your eager. Our body uses up energy, while turning the cold drink in body heat. That is why you feel hotter than before. So it's better to keep your appetite for a cocktail for the evening. Prepare instead 2 liters of hot tea in the morning, put them in a thermos flask and take it with you to the beach or while hiking in the mountains.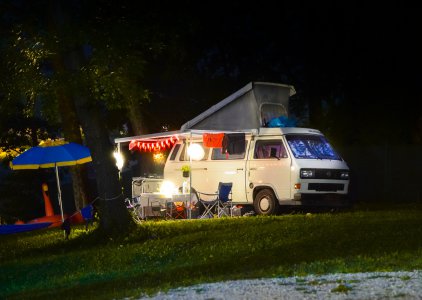 5. Gain space with the car awning
You can normally take your car with you on the campsite. Instead of letting it stand there, you can buy an awning for your car or something that can be used as such. This way you win space. For instance, a tent with a standing height that has an entrance on both sides is just perfect. Simply park the car right in front of one entrance, open the entrance and (when it opens upwards) stretch the door fabric over the car roof with two ropes. This way you can even enter your tent while it is raining, without getting wet.
6. Airlounge
Do you think that camping is uncomfortable and only suitable for young people? Wrong thought! There are extremely comfortable camping furniture that can be inflated like an air mattress or an airlounge. Thick beds, nest-shaped camping armchairs or complete sofas for 2-3 people.  . They don't take up much space, but show their true size on the campsite. This way you don't have to live without comfort while camping. And if you still have room on the sofa, you can also invite your camping neighbours to come and make new friends.
7. Enough supplies even for the neighbours
Nothing is more frustrating than going to bed with an empty stomach. Unfortunately, not everyone is able to plan perfectly ahead. It is therefore not uncommon to hear couples fighting for the last sausage or children grumbling because of the food. A good way to make new friends would simply be to pack more food than what you would probably eat up yourself. This way you can offer your tent neighbours some of your own supplies or invite them over for a cold beer. And the world got a bit more friendly again.
8. Emergency set
Many little things can ruin your whole day, if you are not well prepared for them. Whether it's a painful blister on your foot, a torn fingernail or just a hole in your trousers. A well thought through emergency set has saved many camping trips! In your emergency bag you can pack everything you would also need in case of small emergencies at home. You should definitely include: sewing kit, plaster and blister plaster, painkillers, charcoal tablets, a nail clipper, a pocket knife, small packets of salt and pepper, gaffa tape, safety pins, a few meters of cord, a lighter, sun cream.
Off for camping
The only thing missing is finding the perfect holiday destination! Maybe you want to explore France or Italy? Or would you rather visit Sweden and Norway? No matter where you are going to spend this summer, you are now well prepared and know how to overcome any difficulties that might come your way!
Did you like our post? Please rate us: